Earlier this year I attended a really great financial seminar hosted by Enriched Academy (look them up if you've never heard them - I really like what they are doing) I was more interested in the investment portion of the day but it was jam-packed with great information and they really emphasized about having a working home budget. Not just something you do at the beginning of the year but something you follow, track, revise and update as necessary. It needs to be reviewed with consistency to be followed because as we all know "out of sight out of mind" could not be truer. I use a budget myself and I really try to use it as a guide in my business and my personal life.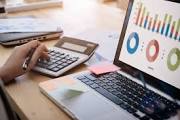 New year, new year goals, and new beginnings. I thought I would post this on here now because as cliche as it seems, I think the beginning of the year is a great time to start something new. This is a link to a home budget that is very usable. You can print it out as many times as you like or you can use it as a guide to creating your own. It doesn't have to be fancy it just needs to be accurate. It's in an Excel format so you can rename and change things to personalise it to your life. 
It looks like a lot of work but once you fill it out and start using it consistency it will be so easy and a real eye opener if you've never tracked your incoming/outgoing money before. 
Click here for the download: