This is my favorite time of year. The bright sun and the cool air, the beautiful colours in the fields as they harvest, and the changing leaves on the trees. I love the crunching sound underfoot as I walk the paths. I hope you are out enjoying some of the magic of the Fall.
The Real Estate market keeps on humming along. Interest rates are causing some concern, but the economic forecasts for Alberta are bringing more people to the province with job opportunities, and in turn this will keep the housing market booming. Take a look at the market stats for your area (links below). I think you will be impressed with the number of homes sold in our local market. Things are good in Central AB!
If you are considering listing, we should talk. Housing inventory is low and prices are stable, so this is a great time to sell (and buy). Attached is an update about Red Deer being the most affordable place in Canada to invest in property. If you are contemplating a move and don't know where or when to start, we will help you make a plan. Our Team will be there to guide you through the process, helping you navigate the market, providing tips on preparation, staging, and pricing. With our support, we aim get your home sold quickly, for the best price and in the least intrusive fashion as possible to keep your stress levels low. Timing is everything, so give us a call!
Enjoy the fall!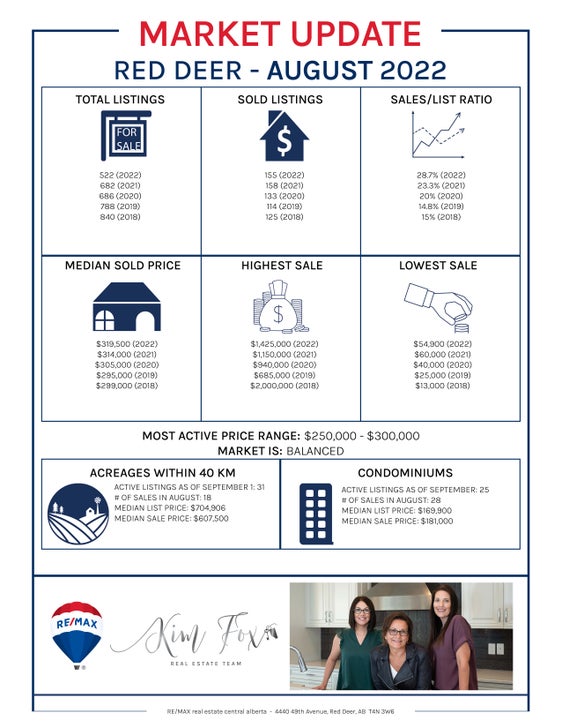 Headlines across Canada are forecasting real estate prices will fall 25% - 35% next year and attribute the cause to rising interest rates, inflation and a slower economy. We believe central Alberta will be ...
Read more about the market stats in your area:

The Prairie real estate market stagnated for years, especially in Manitoba and Saskatchewan. Alberta enjoyed a robust housing industry, thanks to its two major urban centres – Edmonton and Calgary – and its energy sector. But everything changed a couple of years ago when a whole host of Prairie cities and towns posted meteoric gains.
But with rising interest rates and market uncertainty, is this still the case? While it might be too early to declare a downturn, the common theme in many Prairie markets is that prices continue to remain elevated, despite waning sales activity.
So, what are currently the three hottest Prairie real estate markets to invest in today? Here are the cities that are doing well during the downturn in the broader Canadian housing market.
#1 Red Deer, Alberta
According to the Alberta Real Estate Association (AREA), residential property sales slipped just 2.5 per cent year-over-year in August, totalling 154 units. But the modest price growth has been the attractive component of the Red Deer real estate market, buoyed by broader market tightness.
In August, the total residential average price rose at an annualized pace of 2.8 per cent to $338,850. But while prices continue to be healthy, dollar-value performances among the different property categories have been mixed, association data revealed.
Detached Average Price: +9.2 per cent to $394,765
Semi-Detached Average Price: -2.6 per cent to $279,018
Townhome Average Price: -8.7 per cent to $208,329
Apartment Average Price: +15 per cent to $193,655
Housing supply may have contributed to the decline in semi-detached and condominium prices in August. Indeed, according to the AREA, new residential listings fell 14.8 per cent year-over-year to 224 units. Active residential listings tumbled 23.4 per cent to 523 units. Months of inventory, which measures the number of months it would take to exhaust current levels at the present rate of sales activity, slid 21.4 per cent to 3.40.
However, new housing construction activity has been on the decline this year, with housing starts totalling just 11 in July, according to Canada Mortgage and Housing Corporation (CMHC). Year-to-date, housing starts have totalled 87 units.
Want to find out what other two markets made the Top 3? Read the full article
HERE.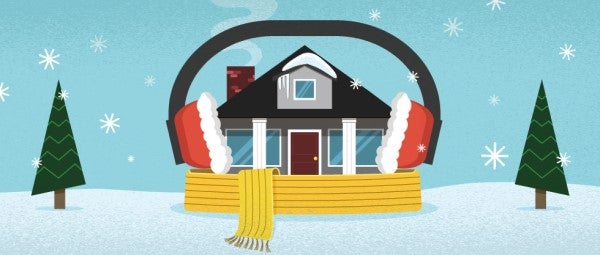 Get your Home Ready for Winter!
With the cold weather creeping in and mornings becoming a bit more frosty, now is the time to start prepping your home for the cold winter months ahead. Here is a handy checklist of things to do before the snow hits!
Turn off outdoor water taps: After tending to your garden all spring and summer, it's important to disconnect  any garden hoses, close the water valve to the pipes from inside, and leave the taps outside all the way open for the winter. This will help to ensure all the water drains to avoid frozen and burst pipes.
Inspect the roof: Missing or damaged shingles leave the roof vulnerable to the harsh winter elements of snow, ice and wind, and the damage may not be apparent until the spring thaw. By that time, it will be too late to avoid the cost of repairing water damage if the roof leaks and, to make matters worse, the need to repair or replace the roof will still be a factor.
Clean the gutters: Ideally, gutters should be cleaned twice a year – once in the spring and again in the fall. However, if it's only going to be done once, the cleaning ahead of winter is arguably the most important. If gutters are not cleared, the leaves and other debris from trees can freeze, and that excess weight can cause them to come away from the house, thus requiring an expensive replacement.
Seal the windows: Sealing windows with a fresh application of caulking is a relatively quick, inexpensive project, but it can add up to a big difference in home comfort and heating costs. As space heating can account for as much as 61% of the energy used in the average Canadian home, and as much as 13% of your home's total heating and cooling could be escaping through the trim around windows and doors. Anything you can do to keep the warmth in and the cold out can help to save you money.
Service the furnace: Having a licenced technician service the furnace before it's tasked to work all day, every day, can help it work more efficiently. When the furnace is operating as it should, it can help save on energy bills, and spare you a costly repair if it suddenly stops working – no doubt on the coldest day of the year!
Replace smoke detector batteries: Many newer-model smoke detectors are designed to be wired to the home's electrical system, leading some homeowners to forget about replacing the backup batteries. However, 20% of all house fires in Canada are due to electrical fires, and if the electrical system isn't working, neither is a hard-wired smoke detector. Back-up batteries should be considered an important piece of safety equipment to maintain. While you're at it, you should replace the battery in you carbon monoxide detector as well.

25006 Township Road 382
$869,000
5 BEDS | 3 BATHS | 2,426 SQ.FT. | 4.2 Acres
Stunning walk-out Bungalow just 15 minutes from Red Deer but a world away in privacy! Backing onto a nature conservatory, you don't have to worry about any neighbours on three sides. There is plenty of room for friends and family in a space where indoor and outdoor living blend beautifully.
An open floor plan with vaulted ceilings, new Kitchen with quartz counters, feature stone fireplace with wood stove, newly renovated main floor Bath, and spectacular views from every angle.
26 Tyson Crescent, Red Deer
$645,000
4 BEDS | 3.5 BATHS | 2,136 SQ.FT. | 7,304 Sq.Ft.
Beautiful two-storey home backing onto a green space and a pond, meaning you don't have to worry about any rear neighbours! Located in the newer Timberstone subdivision, you are never far from what you need for amenities, services, and schools.
Inside, find tones of space and beautiful fixtures and finishes, including quartz counters, soft-close cabinets, a spa-like Ensuite, a large Bonus Room, and more!