The Spring market is starting to heat up with a very busy February behind us. If you're thinking of selling, now is the time to prep your home and get it listed. Give us a call, we are happy to come in, provide you with a market evaluation, and give you suggestions on how to improve your home's "first impression". We also have a great article below on things you can start on now to get your home in tip top shape before listing.
If you have building on your mind, now is the time to find a lot and get your plans started so you are ready to hit the ground running when the snow thaws. We have some great options for you in
Timberlands North
(see below), as well as some acreage opportunities in
Burbank Heights
.
What a great Central Alberta Home Show last weekend! The Home Show saw 165 vendors, up last year from 115, so things are starting to feel a bit more normal. Attendance was great, and it was a pleasure to connect with our clients that stopped at our booth, as well as builders, renovators, vendors, and more; great to see all the businesses out and about. Thanks to everyone who came out and made it a success.
Have questions about the market, buying, or selling? Give us a call, we'd love to help!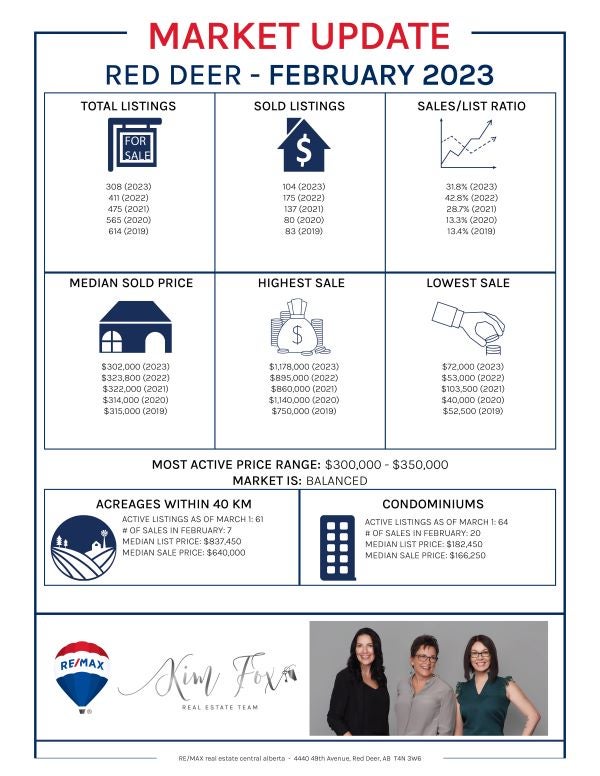 Read more about the market stats in your area:
Red Deer
 | 
Blackfalds
 | 
Sylvan Lake
 | 
Lacombe
 | 
Penhold
Getting Your Home Ready For The Spring Market!
Spring has almost sprung, if you're thinking about putting your home on the market, now is the time to start getting ready. The real estate market heats up every spring, and with a shortage of inventory there couldn't be a better time to take advantage of the market. 
Pressure wash the exterior
:
Winter weather can wreak havoc on your home's exterior, but a thorough pressure washing can give it new life. It's also good for cleaning off sidewalks and driveways that have spent the better part of winter under a layer of snow, ice, and salt. Many landscaping companies offer pressure washing as part of their services, or you can rent a pressure washer from your local home improvement store for the day.
Wash the windows:
Dirty windows are not only an eyesore to homebuyers but also block out sunlight. Wipe off the grime, open those blinds or curtains, and let the sunshine in to brighten your space.
Spruce up the yard:
Curb appeal is everything to buyers, both in person and in the exterior photos you include in your online presentation. But don't think that a garden full of colorful blooms is the only way to win buyers' hearts. A mowed lawn, swept sidewalks and tidy yard (remember to put away those garbage and recycling bins) show that you care about keeping up appearances. 
Tidy Up the Front Entrance:
Nothing says "welcome home" more than a clean and inviting front entrance -- especially if yours has been cluttered by boots and shovels for the past few months. Give your front door a fresh coat of paint.
De-clutter your home:
 If you're planning on de-cluttering your main spaces by shoving everything in a closet or storage room, DO NOT. Buyers will open every closet and cupboard! If your closets and cupboards are packed, it tells prospective buyers, "this home isn't big enough for us and it won't be big enough for you!" Start packing for your move NOW by removing anything you won't need for the next few months.. Start keeping personal effects in small containers in the bathroom so that they can be quickly put away for showings. 
De-personalize the space:
Paint as much of the house as you can in a neutral paint tone. When it comes to staging, less is more. Put away personal items so buyers can focus on what it will look like
with their belongings.
Change/replace
light bulbs:
Buy some bulbs in bulk, because you're going to be swapping out not only dead bulbs but also fading ones. Ideally, you'll want the bulbs to match each other's cool or warm temperature. You can tell the difference between the two -- warm is a softer yellow glow, while cool is a brighter white -- and you can certainly see the difference if you've mixed them in a light fixture.
Repair or replace damag
ed items:
Tour your home room by room and make note of any small repairs that you can make, such as tightening a loose door handle, fixing a stuck kitchen drawer, or caulking a drafty window. It's understandable that you might not want to pour big bucks into renovation projects on a home you'll be leaving soon. But if you tackle a list of small repairs, it will show buyers how well you maintained your home -- and that there's potentially less for a new homeowner to do upon moving in.
Spring is widely considered to be the start of the sales season for real estate. Housing inventory has been at historic lows, but more homes could come onto the market in the coming months. If you want your home to attract more buyers and sell in a timely fashion, get moving on your home to-do list.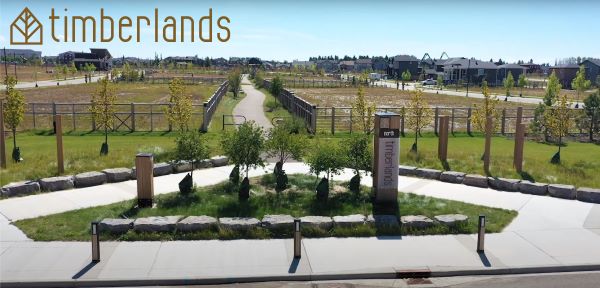 PICTURE YOURSELF HERE
Picture yourself in a
neighbourhood
that has it all; great
walkability
to nearby amenities, beautiful streets and pathways with tons of lighting, an eco-friendly design for keeping landscaping looking bright and new, and the chance to build your dream home with the builder of your choice. That's what you get in Timberlands North! The newest 
neighbourhood
in Red Deer, find everything you need in a brand new home when you choose your lot and pick your builder. If you like bright, shiny, and custom designed, this is the place you want to build. Picture yourself here – in Timberlands North!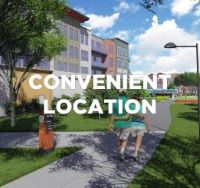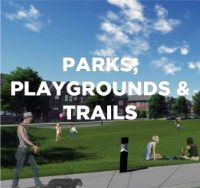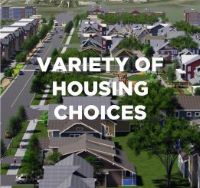 What a Party!