In August, residential MLS sales in central Alberta continued to be very strong, with the third highest total for the year, just slightly lower than May and June.  The number of active listings at the beginning of September was down 5.25% compared to August 1 totals.  Sellers continue to have the advantage in most central Alberta markets and, we anticipate that trend will continue for the foreseeable future unless there are dramatic shifts in supply or demand, or both.
The national news is full of stories about inflating real estate prices and an acute housing shortage exacerbated by high interest rates, skilled trades shortage and the cost of construction materials.  Central Alberta has yet to experience these issues at the same level as the rest of the country, but prices are up and are likely to go higher if conditions persist.
The Bank of Canada held its prime lending rate this week, which suggests mortgage rates should do the same.  The next setting is in October and consensus among economists is they will likely continue to hold.  There is no enthusiasm that rates will come down at least until next spring, depending where inflation goes.  What the country needs is massive new home construction.  Every government is trying to figure out how to make that happen and the answers aren't easy.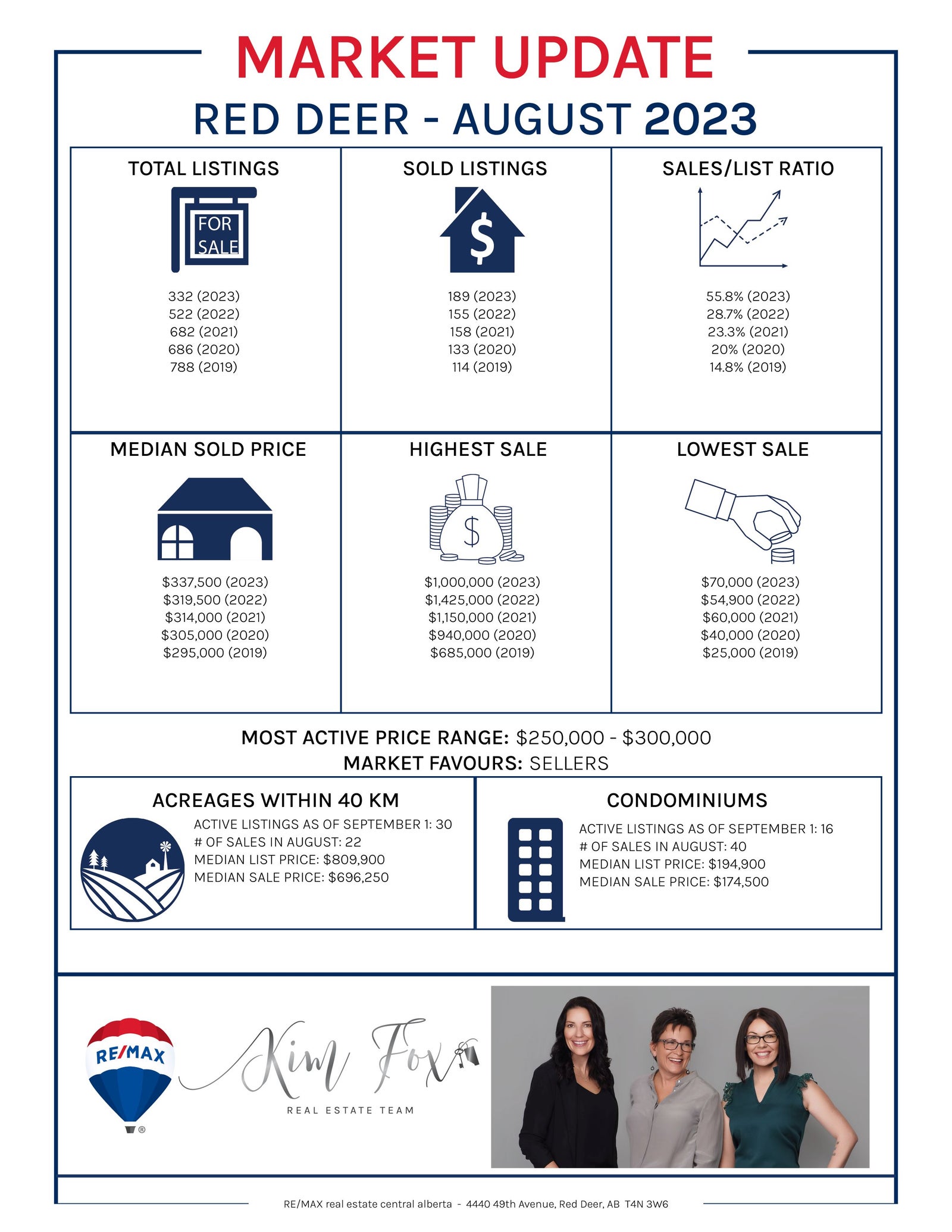 Read more about the market stats in your area:
Red Deer
 | 
Blackfalds
 | 
Sylvan Lake
 | 
Lacombe
 | 
Penhold
Bank Of Canada Holds Interest Rates;
Keeps Key Policy Rate At 5%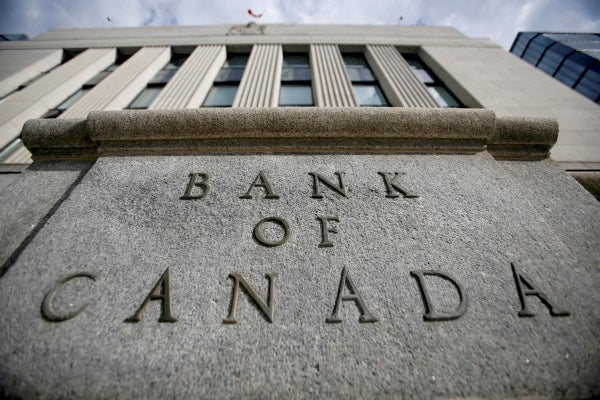 The Bank of Canada held interest rates on Sept. 6, keeping its key policy rate at five per cent. Inflation in advanced economies has continued to come down, but with measures of core inflation still elevated, major central banks remain focused on restoring price stability.
The Canadian economy has entered a period of weaker growth, which is needed to relieve price pressures. Economic growth slowed sharply in the second quarter of 2023, with output contracting by 0.2 per cent at an annualized rate. This reflected a marked weakening in consumption growth and a decline in housing activity, as well as the impact of wildfires in many regions of the country. Household credit growth slowed as the impact of higher rates restrained spending among a wider range of borrowers. Final domestic demand grew by one per cent in the second quarter, supported by government spending and a boost to business investment. The tightness in the labour market has continued to ease gradually. However, wage growth has remained around four per cent to five per cent.
Read the full article from the Financial Post HERE. 
Alberta's Resale Housing Market Maintains Momentum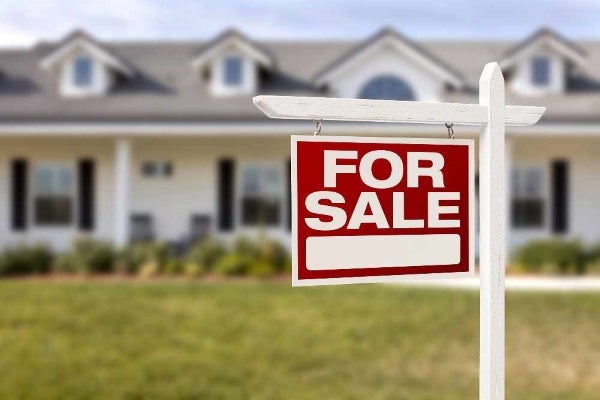 Home buying activity in Alberta remained on a stronger footing than many other regions in the country in the early summer months.
After dropping to a 2-year low in February, residential unit sales* in Alberta improved for the fifth straight month in July. In contrast, national sales have leveled off in the last two months, coinciding with the two latest interest rate hikes from the Bank of Canada.
With the recent improvement, residential sales rose 13.1% above July 2022 levels in Alberta. Sales are now running at historically high levels, but they are still well below their record peaks from earlier in 2022.
The recent uptick was reflected across home prices too. Driven mostly by steady increases in Calgary, the composite benchmark price** in Alberta reached a new high in July while the national price remained 9.8% below peak levels nationally.
Even with the latest increases, the benchmark price in Calgary ($542K) remains below other major centers, including Toronto ($1.17M), Vancouver ($1.21M), Ottawa ($646K), though placing above Montreal ($518K) and Edmonton ($366K).
Second only to Ontario, Alberta had the lowest months of inventory among all provinces at 2.6 months in July. Similarly, at 73.9, the sales-to-new-listings ratio in Alberta was well above the national ratio of 59.2.
While higher borrowing costs continue to weigh on the housing market, surging population growth has contributed to the resiliency of demand in Alberta.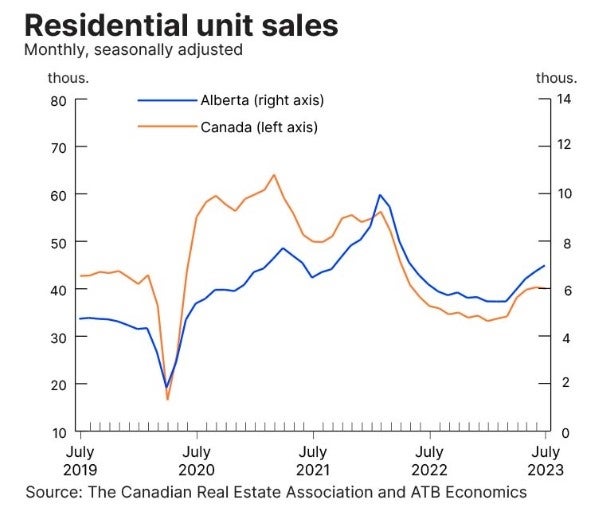 **The MLS® Home Price Index (HPI) model is used to calculate benchmark prices in key Canadian markets. A "benchmark home" is one whose attributes are typical of homes traded in the area where it is located and includes single family homes, townhouse/row units and apartment units.
Articled provided by ATB's The Owl - View full article
HERE.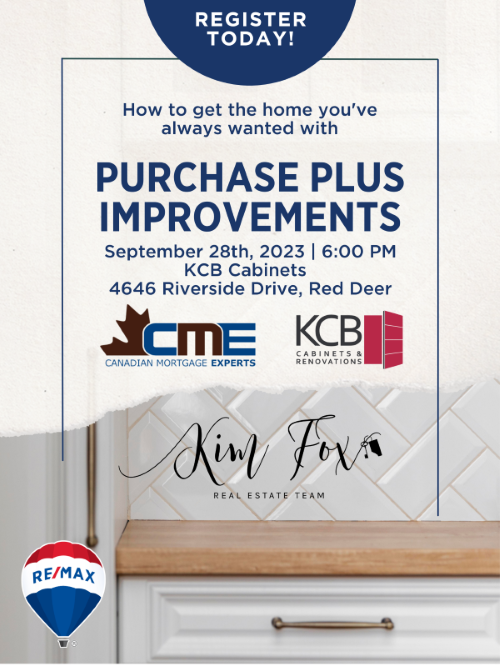 HOW TO GET THE HOME YOU'VE ALWAYS WANTED
WE CAN HELP!
Are you looking for the perfect home for your family that checks all the boxes, but coming up empty handed? 
Is your mortgage up for renewal soon but you'd like to make some updates to your home? 
Have no idea where to start and looking for guidance to make your dreams come true?
Join us for our upcoming workshop where we will go over the options you have to get the home you've always wanted - whether that means buying, selling, re-financing, or coming up with a specialized plan with mortgage, renovation, and real estate experts. 
Co-hosted by the Kim Fox Real Estate Team
with KCB Cabinets and Arlene Demars of Canadian Mortgage Experts.
WHEN:
September 28th, 2023 – 6PM
WHERE:
KCB Cabinets, 4646 Riverside Drive, Red Deer
GET YOUR TICKETS NOW
! All proceeds benefit Habitat for Humanity and Registration includes access to the Red Deer Home Show (October 13-15).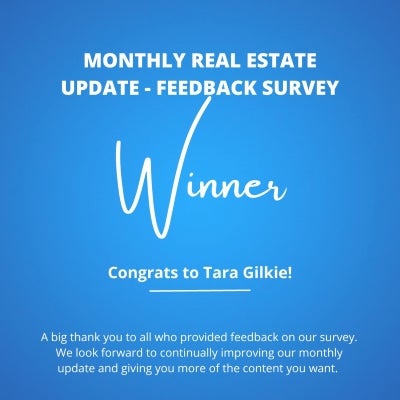 Tara has won a gift-card to a local business as our thanks for completing the survey. Stay tuned for more opportunities to provide your feedback in the future!


Your referrals allow us to continue to do what we love. Please share our name with friends and family! 
"Roxann stuck by our side for nearly 2 years while we searched for our dream home!!! Our plan changed from this to that and back again and she was always there to support us 100% of the way!!! She answered all of our questions and if she didn't have answers she would reach out to her support group to ensure we were satisfied! Roxann is extremely down to each, reasonable, personable, and a genuine great person!!! Most important she has your best interests at heart!! Highly highly recommend!!"
"Working with Tammy to find our new home in Sylvan Lake was an absolute pleasure! Extremely hard working and informative, Tammy provided over and above support that made the process comfortable, with timely communication, and had great advice along the way. Thanks again Tammy!!"
"She was fantastic right from the beginning to the end of selling our house. She was very helpful, patient and knowledgeable. Would highly recommend Kim Fox."