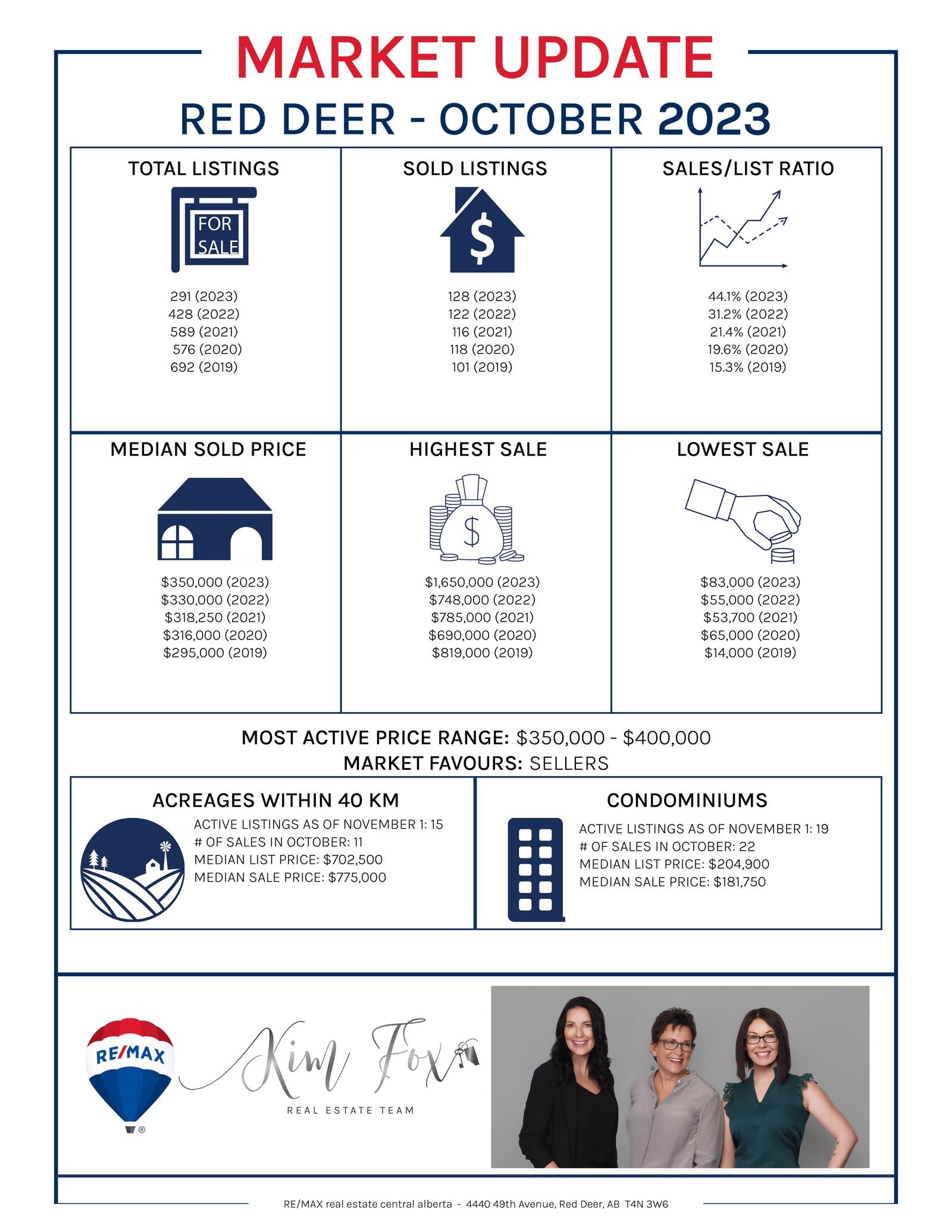 Residential MLS sales in Central Alberta in October were down 16.24% compared to September, a normal trend as we move closer to winter. The number of active listings at the beginning of November was down 15.75% compared to the beginning of October which is also normal for this time of year. Sales in October of 2023 were up almost 7% compared to October 2022, lending support to the theory that our market is still very active. The overall Central Alberta market is well into balanced territory with a 31% sales to listings ratio in October. We continue to experience inventory shortages.
The Alberta economic outlook is very optimistic with several large manufacturing facilities planned and under construction. While most of these are not located in central Alberta, they will bolster our local economy. The new $1.8 billion Red Deer Regional Hospital expansion is in the planning stages and construction is expected to start in the spring of 2024. That project alone will generate substantial economic activity in central Alberta.
The Bank of Canada held its prime lending rate at 5% in both of their last announcements and predictions are they will continue that stance at their next announcement on Dec. 6, 2023. GDP growth in Canada has been stagnant for the last two quarters and many economists believe we are in a "technical recession". A slower economy and stable inflation rates are not likely enough to encourage the central bank to reduce rates, but maybe enough to keep them from going up. Most predictions see the bank rate hovering at about 5% until the middle of 2024 when it will slowly come down to about 3% the middle of 2025. There is relief in sight!
RED DEER
To find out more click the link below
To find out more click the link below
To find out more click the link below

To find out more click the link below
To find out more click the link below